Happy Teachers Day 2022
After our parents, it is the teacher who inculcates good values and wisdom into our lives. They play a very important role in every student's life. Words are not enough to express our gratitude to our teachers, therefore we dedicate 5th of September to all our beloved teachers who have taught us something about life and helped us to become a better individuals. So on this day, let us remember all our mentors and teachers and send them a gratitude message for playing such an important role in our lives. Here are some wishes, messages, quotes and greetings for Teachers' Day.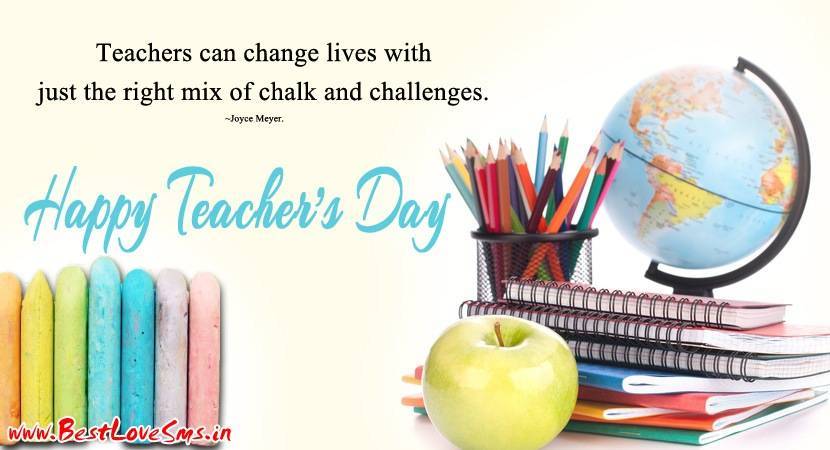 Happy Teachers Day 2022: Wishes:
Dear teacher, without your guidance and wisdom, I would not be where I am now! Thank you and happy teacher's day!
Happy teachers' Day! Please accept my immense respect and best wishes!
Dear teacher, I wish you a happy teacher's day. Thank you for being the guide and for inspiring me to do well in my studies. You are the best teacher.
You are not only our teacher
You are our friend, philosopher, and guide
All moulded into one person
We will always be grateful for your support
Happy teachers' Day! We thank you today and every day!
Happy Teachers Day 2022: Messages
I found guidance, friendship, discipline, and love, everything in one person. And that person is you. Happy Teachers' Day!
Thank you, teachers, for making online classes so enjoyable.
Teacher, you have shaped me to become the person I am today. I am forever grateful for everything you have for me! Happy teachers day!
You made me realize that homework doesn't vanish as we grow old, it only becomes tougher and lengthier. Happy teachers' day!
Happy Teacher's Day 2022: Quotes
"Let us remember: One book, one pen, one child, and one teacher can change the world."- Malala Yousafzai
"If a country is to be corruption free and become a nation of beautiful minds, I strongly feel there are three key societal members who can make a difference. They are the father, the mother, and the teacher." – Dr APJ Abdul Kalam
"The job of an educator is to teach students to see vitality in themselves." –Joseph Campbell
"Those who know, do. Those that understand, teach."–Aristotle
A wise person can enter and dwell in his own teacher's knowledge, having realized it for himself through knowledge – Gautam Buddha
"It is the supreme art of the teacher to awaken joy in creative expression & knowledge." – Albert Einstein
 Education is the manifestation of perfection already in man – Swami Vivekananda
for more upate visit hindumetro