Gandhi Jayanti – Gandhi Jayanti is observed on 2nd October every year to honor the birth of Mahatma Gandhi. Endearingly known as 'Bapu', Mahatma Gandhi's principle of non-violence or 'satyagraha' still finds favor with human and civil rights ideologies. As such, Gandhian thought and value system have been instrumental in establishing peace in various parts of the world. Organizing mass movements through non-violent means in the pursuit of freedom, justice and social change is part of Gandhi's philosophy. United Nations observes 2nd October as the International Day of non-violence aimed at educating the world about Mahatma Gandhi's thoughts and ideals.
Mahatma Gandhi Jayanti 2022: History and Significance
Gandhi, a lawyer whose time in South Africa had a profound impact on his life, was a key figure in the nonviolent marches that led to India's independence. As he was a nonviolent freedom fighter, the UN General Assembly announced on June 15, 2007, that it had passed a resolution designating October 2 as the International Day of Non-Violence. Along with many other national leaders, he was known as the "Father of the Nation" and spearheaded the Indian independence fight against British rule. Throughout the world, various civil rights groups drew inspiration from his nonviolent approach. The title of "Father of the Nation," Netaji Subhash Chandra Bose bestowed upon him in recognition of his tenacious fight for independence.
On October 2, 2014, India began the "Swachh Bharat Abhiyan," or "Clean India Mission," based on Mahatma Gandhi's teachings and beliefs, with the goal of eradicating open defecation and enhancing solid waste management in rural and urban areas. The Indian people place a great deal of emphasis on Gandhi Jayanti. In addition, it is a day to commemorate Mahatma Gandhi's principles, teachings, and ideals and to uphold them.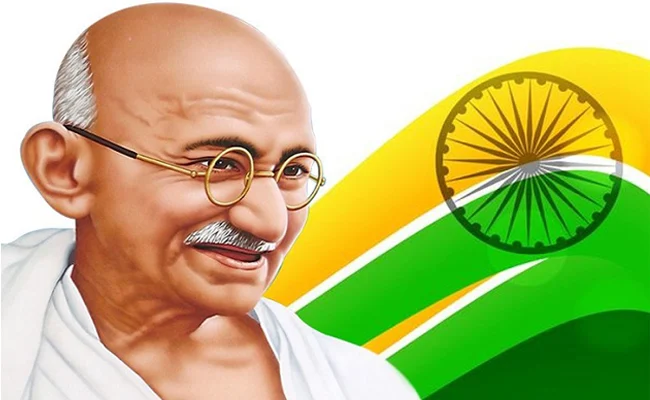 Happy Gandhi Jayanti 2022: Messages
Pleasing a single heart by a single act is better than a thousand heads bowing in prayer. Remembering the teachings of the great leader on his birth anniversary. Wishing you a Happy Gandhi Jayanti 2022.
Let's honour the Mahatma who shook the world in a gentle way. Wishing you a Happy Gandhi Jayanti 2022.
It is a day of celebration. It is a day to value a special person, the person who will forever be the hero of our nation, who taught the world the lesson of non-violence. Wishing you a very happy Gandhi Jayanti 2022.
Being friendly with one's friends is easy. But to be friends with the one who regards himself as your enemy is the true religion. The others are a mere business. Good wishes on the birth anniversary of the great leader, Mahatma Gandhi.
The weak can never forgive. Forgiveness is the attribute of the strong. Happy Gandhi Jayanti 2022!
The best way to find yourself is to lose yourself in the service of others. Let the occasion of Gandhi Jayanti reminds us to always help others. Wishing you peace and harmony from our end. Happy Gandhi Jayanti 2022.
Let us all follow the path of truth and wisdom, and pay homage to the Father of the Nation on this day.
On this Gandhi Jayanti, let us pay homage to this great leader.
May Bapu and his teachings always guide us to fight the good fight with peace and brotherhood.
Wishing a very Happy Gandhi Jayanti to everyone…. Let us follow the path Bapu showed all of us to work towards creating India a developed and prospering nation.
We call him the Father of the Nation, we call him Mahatma, we call him Bapu because he always inspired us as a nation…. Happy Gandhi Jayanti 2022.
A very Happy Gandhi Jayanti to you…. Bapu always supported causes for the development of a nation and therefore, we must follow them all for a better country.
Today is the day to look back and remember Mahatma Gandhi and promise ourselves to always work towards the progress and development of India.
Gandhi always taught us to win over our anger and to follow non-violence for a better tomorrow for our nation…. Happy Gandhi Jayanti 2022.
The occasion of Gandhi Jayanti reminds us all that there was a man who was loved by many. Wishing everyone a Happy Gandhi Jayanti 2022.
Though Mahatma Gandhi is not there with us but we can keep him alive by doing good to our country in so many ways. Happy Gandhi Jayanti 2022.
Happy Gandhi Jayanti 2022: Quotes
"A man is but the product of his thoughts. What he thinks, he becomes."
"The greatness of humanity is not in being human, but in being humane."
"Earth provides enough to satisfy every man's needs, but not every man's greed."
"You must not lose faith in humanity. Humanity is like an ocean; if a few drops of the ocean are dirty, the ocean does not become dirty."
"Live as if you were to die tomorrow. Learn as if you were to live forever."
"Happiness is when what you think, what you say, and what you do are in harmony."
"We may never be strong enough to be entirely nonviolent in thought, word and deed. But we must keep nonviolence as our goal and make strong progress towards it."
"Change yourself – you are in control."
Happy Gandhi Jayanti 2022: Wishes
"We should always take the right path in our lives and we will always find ourselves at happy and blessed places. Warm wishes on Gandhi Jayanti to you."
"On the occasion of Gandhi Jayanti, I extend my warm wishes to you. May you always keep your nation first and work hard to take it towards success and prosperity."
"Wishing a very Happy Gandhi Jayanti to the bright and glorious future of our country. May you always make our nation proud with your actions."
"The future of a country depends upon the actions of the younger generation and we are know that you are going to be the best. Happy Gandhi Jayanti."