Amitabh-Rekha's love story, after Jaya's reply, both of them parted ways
Everyone knows about the love story of Bollywood megastar Amitabh Bachchan and beauty queen Rekha. There was also a tour in the film streets, when the pair of Amitabh Bachchan and Rekha were called the hottest couple of Bollywood and the discussions of their love stories were on people's lips. It is said that both had a secret love. Their pair gave more than one film on screen.
During the work, the closeness between the two had increased. Amitabh never accepted his love with Rekha, but Rekha still considers him her own in her heart. So let us tell you about the love story of Amitabh and Rekha under the series 'Shahenshah of Bollywood, 80 years-80 stories' on Amitabh's 80th birthday.
If reports are to be believed, Amitabh Bachchan and Rekha started dating each other during the 1976 film Do Anjaane. People got an idea of ​​their reel life chemistry when Amitabh lost his cool on his co-star after he misbehaved with Rekha on the sets of the film Ganga Ki Saugandh. After which the rumors flying about both of them caught the headlines. However, Amitabh and Rekha never publicly acknowledged this fact. Yash Chopra, the director of the film Silsila, had disclosed about the relationship between the two.
During an interview, Rekha made a big disclosure on the relationship between her and Amitabh Bachchan. She said that no one cares about what I want. I am not another woman. He also targeted Jaya without taking names that the other person remains poor in everyone's eyes. How can one live under one roof with such a person when he knows that he loves another.
Even when the news of their affair was spreading like fire, Amitabh Bachchan was silent. But these news had reached Jaya's ears. Once when Amitabh Bachchan was not at home, Jaya invited Rekha to her house for dinner one night. Then Rekha felt that perhaps she would tell him a lot of lies. But when Rekha reached Jaya's house, she treated Rekha with great respect, fed her and showed her the house. When Rekha was going back, Jaya only told her that 'I will never leave Amit'. Jaya had made it clear that Rekha would never be of Amitabh.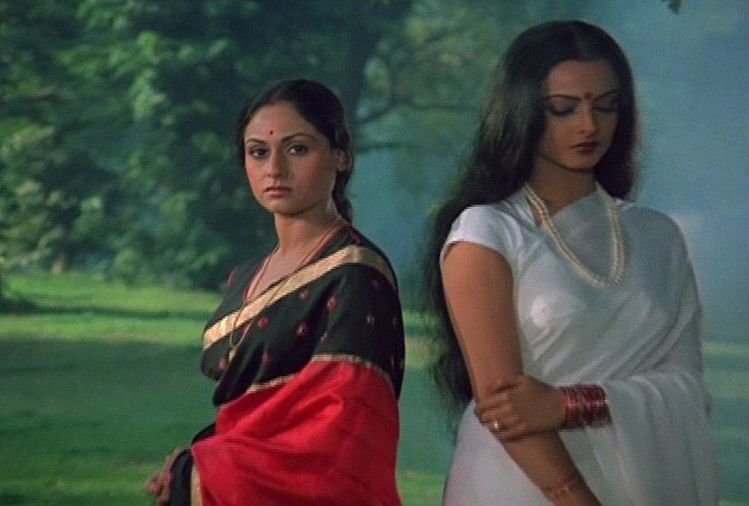 Amitabh and Rekha last did the film 'Silsila' together. After that the two were never seen together. People also say that the film 'Silsila' is the real life story of Amitabh, Rekha and Jaya. After this film, distance came between Amitabh and Rekha. Even today, whenever both of them are seen together, they keep stealing their eyes from each other.
for more update visit hindumetro