HAPPY DIWALI 2022: Diwali is one of the most auspicious festivals of the Hindu community. The festivities of Diwali go on for 5 days. It starts with Dhanteras and concludes with Bhai Dooj. On the 4th day, people celebrate Govardhan Puja, also known as Annakut puja. The day is also observed as Gudi Padwa in some places. Govardhan Puja is observed to mark the victory of Lord Krishna over God Indra. Ahead of the auspicious day, read more about its date, time, significance, and puja vidhi.
Govardhan Puja 2022: Date
This year, Govardhan Puja will be observed on October 26. The Pratipada Tithi is predicted to be in effect on this auspicious day, which is the same day when Bhai Dooj will be celebrated.
Govardhan Puja 2022: Auspicious Timings
The Pratipada Tithi on this day is predicted to begin from 4:18 PM on October 25 to 2:42 PM on October 26. The Shubh Muhurat or auspicious timings for Govardhan puja will be between 6:29 AM to 8:43 AM on October 26.
Govardhan Puja 2022: Puja Vidhi
On this day, devotees use cow dung to make hills.
They then decorate the hill, which signifies Govardhan parvat, with flowers and kumkum.
People pray to Govardhan Parvat for their family's safety and well-being.
Additionally, the Govardhan Puja Vidhi includes people giving a bath to their cows.
Moreover, they worship them with garlands and saffron.
The devotees go around the cow dung hills in Parikrama (rounds).
An essential part of Govardhan Puja is Annakut Puja. During the celebration, Chappan Bhog is offered to Lord Krishna.
Following this, it is distributed among family and friends.
Govardhan Puja 2022: Wishes
1. On this special day, I wish the best for you and your family in terms of health, wealth, happiness, and luck! May Lord Krishna always protect you from all evil.
2. Happy Govardhan Puja to you and your family. Have a splendid day and festive season!
3. After reaping blessings for wealth and fortune from Goddess Lakshmi and Lord Ganesha, I wish for Lord Govardhan to abundantly bless you and your kin with longevity, love, hope, dreams, and all things optimistic. Happy Govardhan Puja to you and your family!
4. Blessings on blessings on blessings! Love, laughter, fun and frolic, and a lot of faith your way. I wish for you and your family to rejoice and count all your blessings. Happy Govardhan Puja to you!
Govardhan Puja 2022: Quotes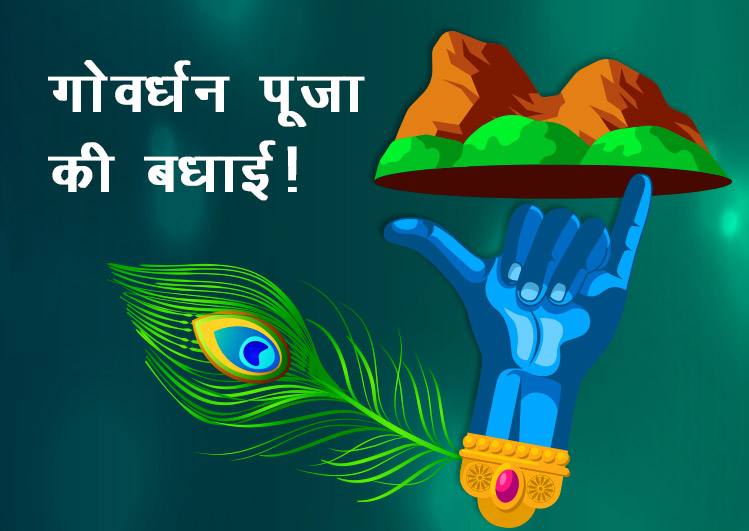 1. Tenacious like Govardhan
Courageous like Krishna
And believing like the people of Vrindavan
I wish God bestows each and every virtue on you!
Happy Govardhan to you and your loved ones!
2. When the rains and storms of life push you down
I wish for a guide to hold your hand and pull you out of desolation
And protect you from sorrow and grief, self-doubt and pity
And fill you with love and optimism.
Happy Govardhan Puja to you and your family!
3. Welcome the season of festivals
Welcome the Lord of Lords
Welcome the savior of Vrindavan
And say thank you to Gods
Happy Govardhan Puja to you and your family!
4. Dance and sing With the rain and the wind Twist and swirl Every boy and Girl For the Lord is here To take away all your sorrows and fears And spread only happiness and cheer!
For More Update Visit Hindumetro