The Gold Wrestling Cup was held in Gautam Budh Nagar, Uttar Pradesh. In this, Sagar Jaglan, a resident of Panipat, won the title. Sagar got one lakh rupees. Sagar has been Bharat Kumar in the past as well. In this competition, Sagar defeated famous wrestlers.
Panipat, Jagran Correspondent. Sagar Jaglan of Raj Nagar, Panipat won the title of Bharat Kumar in Baba Sheetal Gold Wrestling Cup. This competition took place in Gautam Budh Nagar, Uttar Pradesh. Sagar stunned four famous wrestlers of the country in the 74 kg weight category. He got one lakh rupees in prize and Burj.
Even before this, Sagar has won the title of Bharat Kumar. Sagar told Dainik Jagran that he practices for three hours every morning and evening at Ashwini Akhara in Kharkhoda. Now he is preparing for the Senior National Wrestling Championship. His goal is to win the gold medal in the competition. He has also been a senior national champion in the past. Sagar has already won gold in Sub Junior Asian and World Wrestling Championships, Gold in Khelo India, Silver in Senior Games and Gold in Under-23 National Wrestling Championship.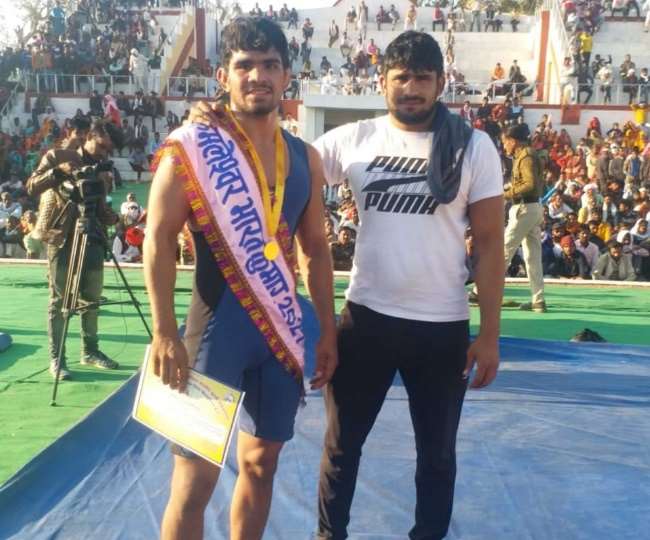 Sagar did a great performance
Wrestling coach Ashwini Dahiya told that the specialty of Sagar is the technical mistake he makes in the match. Will not repeat such mistake in future. For this reason, he falls heavily on the rival wrestler. In the Gold Cup, Sagar performed brilliantly and defeated the famous wrestlers. Also won gold medal. Junior players also take inspiration from Sagar. Apart from the upcoming national wrestling competitions, Sagar is expected to win gold medals in international championships as well.
Sagar's father Mukesh Jaglan told that due to the weak financial condition of the house, he had lost his game. He was determined that his son would make Sagar a wrestling champion. Sagar practiced hard and achieved success in junior to senior wrestling matches. Sagar has brought laurels to the district and the state by winning the title of Bharat Kumar.
For more update visit Hindumetro