Happy Birthday Saroj Khan: Bollywood's famous choreographer Saroj Khan may not be among us today, but her memories will always be alive in the hearts of fans and stars. Today is the birthday anniversary of Saroj Khan, who made many superstars like Madhuri to Aishwarya dance to her tunes. Saroj Khan was born on 22 November 1948. Saroj Khan said goodbye to the world in the year 2020 at the age of 71. His demise shook not only his family but the entire industry. While Saroj made Madhuri Dixit dance the most on dance numbers. On the other hand, Saroj Khan made many Bollywood stars super hit because of her songs. On the other hand, whenever it comes to Saroj Khan's favorite student, Madhuri Dixit's name comes first. Saroj had a special bonding with Madhuri.
Apart from being a teacher, Saroj Khan was also his mother.
Everyone knows about the relationship between Madhuri Dixit and Saroj Khan. Madhuri has always been Saroj Khan's favorite disciple. She used to pay full attention to everything Saroj Khan said considering it as a line of stone. Saroj Khan has given many iconic songs with Madhuri. The list of these songs includes many songs like 'Dhak Dhak', 'Ek Do Teen' from the film 'Beta'. At the same time, because of 'Dhak Dhak' of the film 'Beta', Madhuri was called 'Dhak Dhak Girl'. While on the set, Saroj was Madhuri's mentor as well as her mother.
Madhuri had said this big thing about Saroj Khan
There comes a time in everyone's life when its shine starts to fade slowly. Something similar was seen with Saroj Khan as well. There was a time in Saroj's life when she did not have work. In such a situation, Madhuri Dixit had said a big thing about him. Actually, there were reports about Saroj Khan that she does not have work now. On this, Madhuri had said, 'Saroj Khan not getting work is the loss of the film industry.'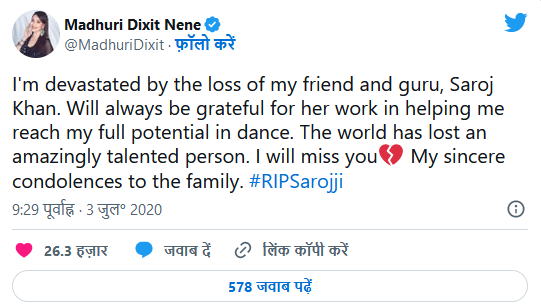 Let us tell you that Madhuri Dixit got a big shock due to the death of Saroj Khan. Madhuri had shared the post paying tribute to her guru on his death. Madhuri wrote in tweeting, 'She is shattered by the passing of her friend and mentor, Saroj Khan. I will always be grateful for their work in helping me reach my full potential in dance. The world has lost an amazingly talented person. I will miss you My sincere condolences to his family.
Entry was made as a child artist
Saroj Khan took entry in the film world as a child artist. He started working as a background dancer. She was interested in dance from the beginning and used to catch dance steps very quickly. Whereas Saroj has choreographed for more than 3000 songs in Bollywood. Please tell that Saroj did choreography for Madhuri for the last time in the film 'Kalank'. Saroj had taught dance steps to Madhuri for the song 'Tabaah Ho Gaye' of this film.
For more update visit Hindumetro