On the lines of twin tower in Noida adjacent to Delhi, now a multi-storey building will be demolished in Ghaziabad also because of corruption in its construction. Actually, in the investigation of Uttar Pradesh Avas Vikas Parishad, it has been found that there were many irregularities in the construction of 17-storey Merlin Society in Vasundhara Yojana.
In this episode, during the construction of a multi-storey building, the builder was allowed to construct only 114 flats from the UPAVP, while the builder constructed 257 flats. A decision has been taken to demolish it when the matter of corruption comes to the fore in the investigation.
The company that demolished the Twin Towers may get the responsibility
Only the company that demolished the Twin Towers can get the tender to demolish this building. This has been pointed out by the officials of UPAVP. Along with this, only Edifice, the company which demolished the Twin Towers located in Noida Sector-93A, can be given the responsibility.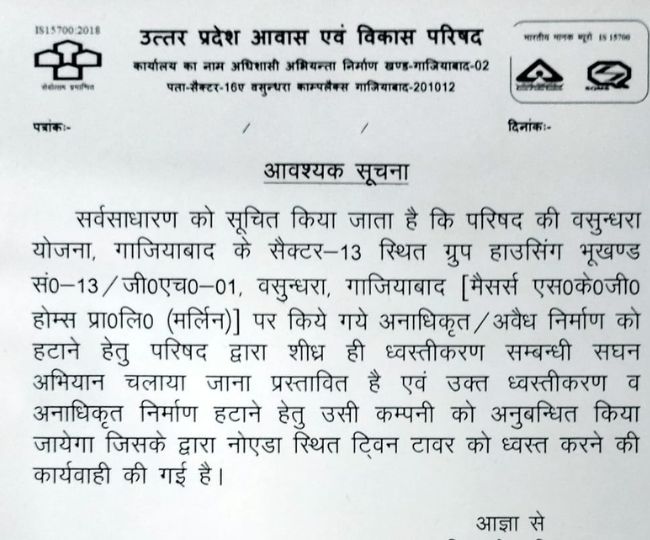 Hundreds of people live in the society
It is being told that in this society of Ghaziabad, illegal construction has been done from the basement to all the floors. Currently there are more than 100 families living here, in which hundreds of people live. On getting information about the demolition of the building, the people living here have come under tension. People say that what is our fault in this? The people of the society can also approach the court for justice.
Preparation to demolish building in Gurugram as well
Let us tell you that before this, an order has been given to demolish D Tower of Chintels Paradiso Society, Sector 109, Gurugram, Haryana. The DC of Gurugram has ordered the builder to demolish the tower. Along with this, E and F towers have also been ordered to be evacuated. This building will also be razed by the same company which demolished the Twin Towers. Preparations are being made for this.
Noida's twin tower was demolished in just 9 seconds
Significantly, Apex and Cyan Towers of Supertech Builder, built in Noida's Sector 93A, were demolished after the order of the Supreme Court. 3700 kg of explosives were used to demolish both the towers. At the same time, before demolishing the tower, the people living in the surrounding area were evacuated. Because it threatened to damage other buildings. The company had prepared for several months to demolish both the towers, after which it took only 9 seconds to demolish both the buildings.
For more update visit Hindumetro