Richa Chadha's troubles are increasing. Richa Chadha has come into controversy by writing Galvan Sage Hi on the tweet of Northern Army Commander Lieutenant General Upendra Trivedi. Richa is constantly being trolled on social media. Seeing the matter growing, Richa has deleted her tweet. Along with this, he has also apologized for his Galwana comment.
Even after this, this matter is not taking the name of cooling down. One after the other, celebs are commenting on Richa's post and opposing her tweet. After Akshay Kumar and Ashok Pandit, now 'The Kashmir Files' director Vivek Agnihotri has also opposed Richa Chadha's tweet.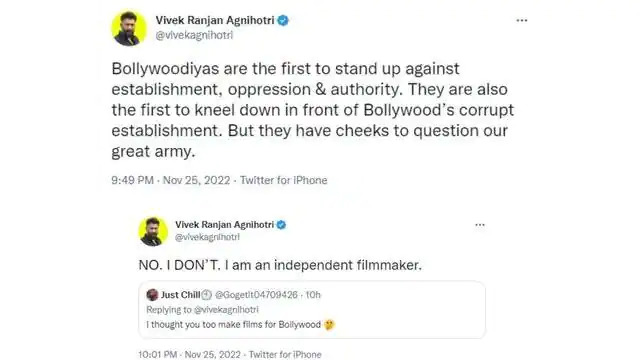 Vivek Agnihotri wrote such a thing on Richa's statement
Responding to Richa Chadha's statement, Vivek Agnihotri said, 'Bollywood people are the first to stand against the authority. But these are the same people who succumb to the corrupt system, but how dare they question our great army. Commenting on this tweet of Vivek, a user asked him that I thought you also make films for Bollywood. On this Vivek said- 'No… I don't make. I am a self-sufficient filmmaker.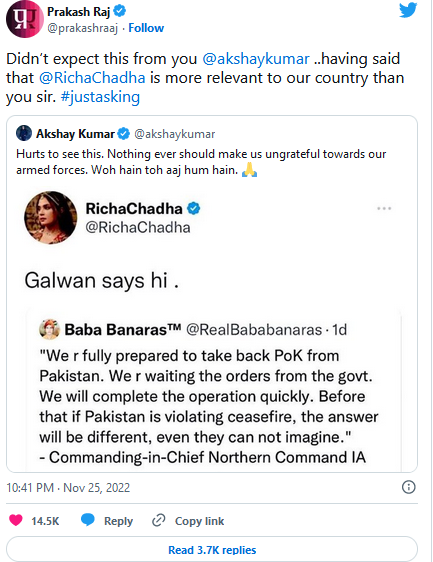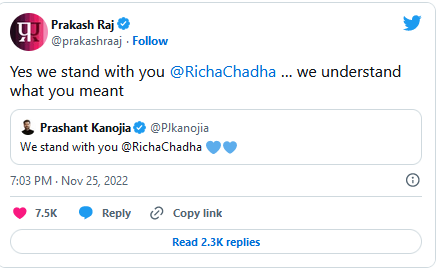 Richa Chadha's Galwan tweet where many stars like Akshay Kumar, Paresh Rawal, Anupam Kher are seen condemning her. In such a situation, South actor Prakash Raj has come out in his support. Prakash has been seen retweeting the tweet made by actor Akshay Kumar regarding Richa Chadha's Galvan tweet. Prakash Raj wrote, 'Akshay Kumar did not expect this from you… Saying this, Richa Chadha is more relevant to our country than you, sir. Before this, Prakash has written another tweet about being with Richa. He wrote on Richa's Galvan tweet- 'We are with you Richa Chadha. We know what you meant to say.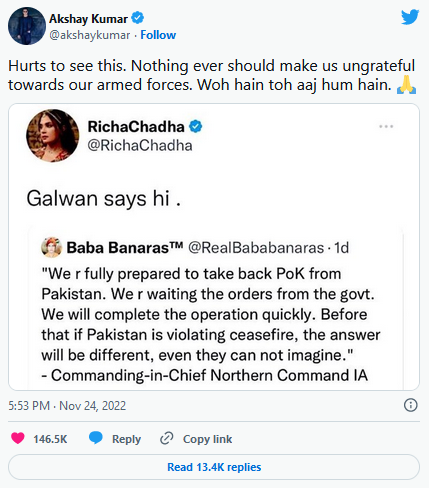 Akshay Kumar did this comment
Please tell that Akshay Kumar wrote in a tweet about Richa Chadha, 'I am saddened to see this. We cannot be ungrateful towards our Indian Army. He is so we are today.
For more update visit Hindumetro