The counting of Delhi Municipal Corporation Election LIVE Delhi MCD Ward Wise Winners Result 2022 has started. In the trends coming from 8 am, there is a close fight between AAP and BJP. Till the time of writing the news, AAP is leading at 123, BJP at 115, INC at 7. Let us inform that in this election, corruption spread in MCD, cleanliness and mountains of garbage remained the biggest issue. The Election Commission has set up a total of 42 counting centers across Delhi for counting of votes.
Delhi MCD Election Ward Wise Winners List 2022
Ward 8 MUKUNDPUR – Gulab Singh (Gulab Singh) BJP has won.
Ward 144 LAJPAT NAGAR Kunwar Pal Singh (Kunwar Pal Singh) – BJP has won.
BJP candidate Kusum Lata won from Ward 147 KOTLA MUBARAKPUR by 4550 votes.
AAP candidate Sonu Chauhan has won from Ward 185 MADANPUR KHADAR EAST.
From Ward 185 MADANPUR KHADAR WEST, BRAHM SINGH of BJP has won.
Sameer Ahmad of INC has won from Ward 213 SHASTRI PARK.
BJP's Anita won from Ward 161 Deoli
Prem Chauhan won from 164 Dakshinpuri
BJP's Neetu won from 187 Sarita Vihar
186 Ward: Brahm Singh of BJP has won from Madanpur Khadar West.
AAP candidate Praveen Kumar won from 185 Ward Madanpur Khadar East
Who is ahead on which seat (MCD Election 2022 Ward Wise)
Timsi Sharma of AAP is leading from Ward 18 JHANGIR PURI.
Narendra Kumar (Narendra Kumar) BJP from Ward 41 AMAN VIHAR
Ward 53 ROHINI-E Pravesh Wahi BJP
Ajay Ravi from Ward 61 KOHAT ENCLAVE BJP
Ward 63 TRI NAGAR Neetu Yadav AAP
Ward 73 CIVIL LINES Avtaar Singh of BJP
Ravindra Kumar of BJP from Ward 74 CHANDNI CHOWK
Shashi Talwar of BJP from Ward 96 RAJOURI GARDEN
Urmila Chawla of BJP from Ward 106 JANAK PURI WEST
Ward 119 MANGLAPURI AAP candidate ahead in second round in Manglapuri ward.
Ward 142 DARYAGANJ Lalit Bhamari (Lalit Bhamari) – BJP
Ward 172 CHIRAG DELHI Rakesh Kumar (Rakesh Kumar) – BJP
Ward 173 GREATER KAILASH – Shikha Roy – BJP
Ward 188 ABUL FAZAL ENCLAVE – Charan Singh (Charan Singh) – BJP
Ward 189 ZAKIR NAGAR – Salma Khan – AAP
Ward 190 NEW ASHOK NAGAR – Sanjiv Kumar Singh – BJP
Ward 208 ANARKALI – Meenakshi Sharma – BJP
Ward 215 SHAHDARA – Bharat Gautam – BJP
Ward 216 JHILMIL – Pankaj Luthra – BJP
Ward 217 DILSHAD COLONY – Sunrika Sharma – BJP
Ward 228 MAUJPUR – Anil Kumar Sharma – BJP
Ward 241 KARAWAL NAGAR-EAST Shimla Devi- BJP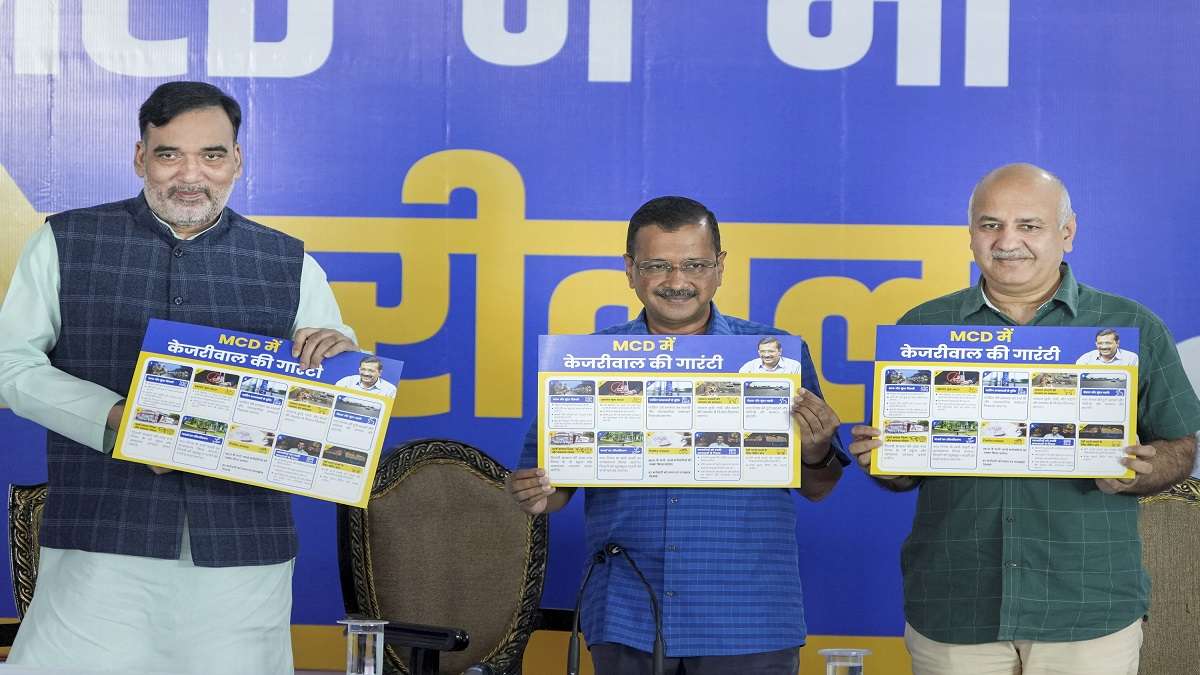 BJP lags behind AAP
As the trends are coming in, AAP is making a fast lead. BJP now seems to be lagging behind. On the other hand, the Congress has not been able to even reach the double digit figure. Significantly, AAP had put up the posters of victory even before the results came out.
AAP wins in exit polls 2022
After the last phase of voting in Gujarat on Monday, AAP got an edge in Exit Polls 2022 conducted by various TV channels. Aaj Tak-Axis My India gave 149-171 seats to AAP, 69-91 seats to BJP and 3-7 seats to Congress. Times Now-ETG exit poll predicts 146-156 seats for AAP, 84-94 for BJP and 6-10 for Congress. Let us inform that this time a total of 1,349 candidates were in the fray in the elections for 250 wards of MCD.
For more update visit Hindumetro