Indian Prime Minister Narendra Modi's mother has reportedly been admitted to hospital in a serious condition. Narendra Modi's mother Heeraben Modi, aged 100, was admitted to UN Mehta Institute of Cardiology & Research Centre in Ahmedabad. As per a statement released by the hospital, PM Modi's mother's health condition is stable now. The cause of the deterioration in her health is not made public yet. This development comes a day after PM Narendra Modi's brother Prahlad Modi and his family met with an accident near Karnataka's Mysore. All family members travelling in an SUV were admitted to a hospital after their car rammed into a road divider. PM Modi's brother Prahlad Modi had sustained minor injuries in the accident.
Narendra Modi's previous meeting with her mother Heeraben Modi
The last meeting between PM Narendra Modi and his mother Heeraben Modi happened on December 4 ahead of the assembly elections in Gujarat. PM Modi was seen in a video arriving at his mother's house in Gandhinagar to seek blessings before the crucial elections, in which Modi's Bhartiya Janata Party registered a landslide victory.
A team of doctors from the hospital is continuously monitoring his health. According to news agency ANI, PM Modi has reached the hospital to meet his mother. In the hospital, while talking to the doctors, he inquired about the health of the mother.
Rahul wishes for speedy recovery of PM Modi's mother
Congress leader Rahul Gandhi shared good wishes for PM Modi's mother. "The love between a mother and a son is eternal and priceless. Modi ji, you have my love and support in this difficult time. I hope your mother gets well soon," Mr Gandhi tweeted, in Hindi, for his prime political rival.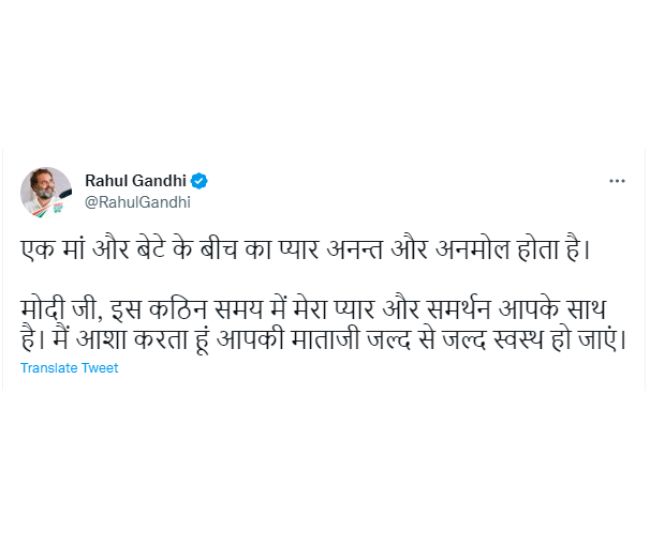 Heera Ba Yuen Mehta admitted to hospital
Please inform that Prime Minister Narendra Modi's mother Heeraben has been admitted to UN Mehta Hospital in Ahmedabad for treatment, where she is undergoing treatment. Doctors told that his mother's health is stable. According to the information, Prime Minister Modi will reach the hospital at around 4 pm after getting the news of mother Heeraben's hospitalization.
PM Modi met his mother during elections
Tell that after Heeraben's admission in the hospital, strict security arrangements have been made in the hospital. At the same time, Chief Principal Secretary to Chief Minister K Kailashnathan has reached UN Mehta Hospital. Along with this, the MLAs of Asarwa and Dariyapur have also reached the hospital. When Prime Minister Narendra Modi was in Gujarat during the campaign for the 2022 assembly elections, he met Mata Heeraben.
PM's brother had an accident
At the same time, Prahlad Modi, the younger brother of Prime Minister Narendra Modi, got into the grip of a road accident on Tuesday along with his family. This incident took place in Mysore, Karnataka. At the time of the accident, his son, daughter-in-law and his wife were also present in the car with him. According to information, his son and daughter-in-law had minor injuries in the accident and both were moderately injured. However, he was taken to the SS hospital for treatment. This accident happened when two cars collided with each other.