In view of the harsh winter in Delhi, the government has ordered that all private schools under the Directorate of Education will remain closed till January 15. The government has ordered that the schools should be closed till January 15 in view of the winter. Let us inform that there were winter holidays in private schools till January 8 and the schools were about to open from Monday, January 9. After this order, the school holidays have now been extended by seven more days.
Earlier, an advisory was issued by the Delhi Education Department to give closed winter vacations till January 15 for all classes in schools, according to which private schools had issued circulars to keep schools closed till January 8 and in this order today i.e. Schools were to open from 9 January. However, after the new order, the schools will now remain closed till January 15. On the other hand, government schools in Delhi have already been instructed to remain closed till January 15.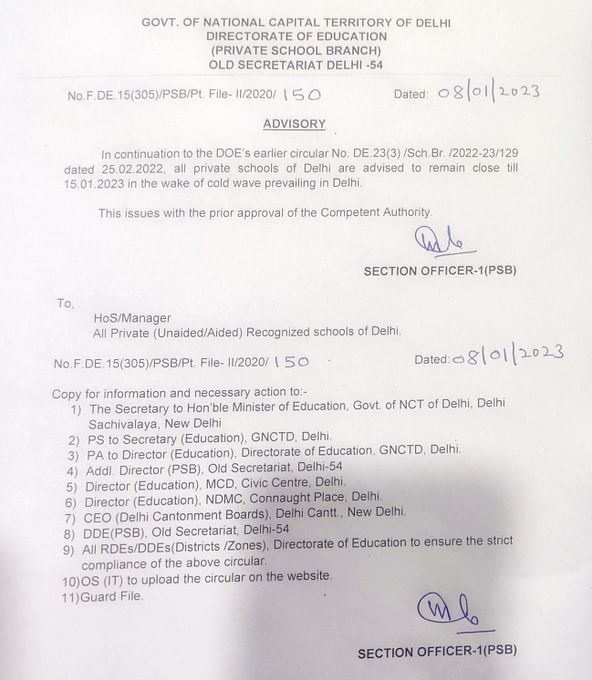 At the same time, orders have already been issued to keep all government schools closed till January 12, as well as orders have been issued to close the remedial classes that were running for class 9th and 12th.
Government schools are also already closed
Delhi government schools have winter vacation from January 1 to January 15. In this regard, the Directorate of Education directed the principals of the schools that remedial classes would also be organized during this vacation to prepare the students of class 9th to 12th for the annual and board exams. These classes will be held from January 2 to January 14. In these classes the principles related to the subject of the students will be clarified. Classes will be held in two shifts.
Delhi school closed in January 2023: online classes have started from today due to severe cold
Let us tell you that due to the ongoing cold wave in Delhi-NCR, the Delhi government has issued advisory to the schools. However, as private schools in Delhi have now been instructed to remain closed till January 15, online registrations are now being conducted by these schools from today, January 9. Many schools by your own students junior and The link and user id and password for conducting online classes through WhatsApp group for senior classes have been shared on Sunday.