Earthquake tremors were felt in many parts of Uttar Pradesh, Rajasthan and Uttarakhand including Delhi-NCR on Tuesday. Due to the strong tremors of the earthquake, the earth kept shaking for a few seconds. The intensity of the earthquake was measured at 5.8 on the reactor scale.
The people working in the office were shocked. Some people came out of the office and reached a safe place. The intensity of the earthquake has been measured at 5.8 on the Richter scale. Explain that along with tremors in Delhi, tremors were felt in Sambhal, Moradabad, Amroha and Rampur of UP at around 2:30 pm.
Amit Pandey, a resident of Delhi, said, "I was on the fifth floor of a block in Civic Centre. I felt a rumbling sound under my feet and felt a slight jolt, after a while the tremors stopped.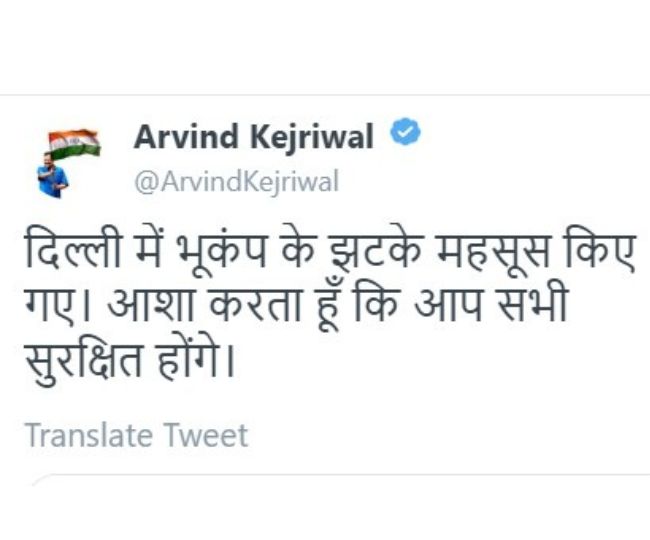 Regarding the earthquake, Delhi Chief Minister Arvind Kejriwal said that earthquake tremors were felt in Delhi. Hope you all are safe.
People out of the house
Due to the sudden shaking of the earth, people came out of their homes. Light tremors of the earthquake have also been felt in Shahjahanpur. Along with this, mild tremors of earthquake have also occurred in Bareilly. Along with this, Nepal, India and China are among the countries affected by the earthquake.
Epicenter of earthquake in nepal
Its center is 12 km from Nepal. It is being told that she is a distant girl. The special thing is that earlier on January 5, earthquake tremors were felt in Delhi. During that time strong tremors of earthquake were felt in Delhi and NCR at around 8 pm.
Let us tell you that at the beginning of the new year, an earthquake of 1.9 magnitude occurred in Delhi and NCR. The epicenter of this earthquake was in Haryana. The depth of this earthquake was 5 kilometers. Let me tell you, even before Thursday's earthquake, there was an earthquake of 2.5 magnitude in Delhi on 29 November 2022. On the other hand, on November 12, earthquake tremors of 5.4 magnitude were experienced.
For more update visit hindumetro