The death toll from the devastating earthquake in Turkey and Syria has crossed 7,000. Citing officials, Hindumetro said that so far 7,926 people have lost their lives due to the earthquake. However, relief and rescue work is still going on in the earthquake affected areas. It is being told that the death toll is likely to increase further. In such a situation, let us tell you about the whole incident so far.
What happened so far
In fact, in the early hours of Monday, at 4:17 am local time in Turkey, there was a 7.7-magnitude earthquake in the southern province of Kahanmaras.
The intensity of this earthquake can be gauged from the fact that the earth was trembling for more than a minute.
Minutes later, a 6.4-magnitude earthquake struck Gaziantep in Turkey's southern province.
Shortly after, a magnitude 7.6 earthquake struck Kahramanmaras at 1:24 p.m. local time.
The intensity of the earthquake was so strong that even the historical buildings could not escape it and that too turned into a pile of debris.
At the same time, earthquake tremors were felt twice in a row in Turkey on Tuesday as well. Both these earthquakes occurred in different regions.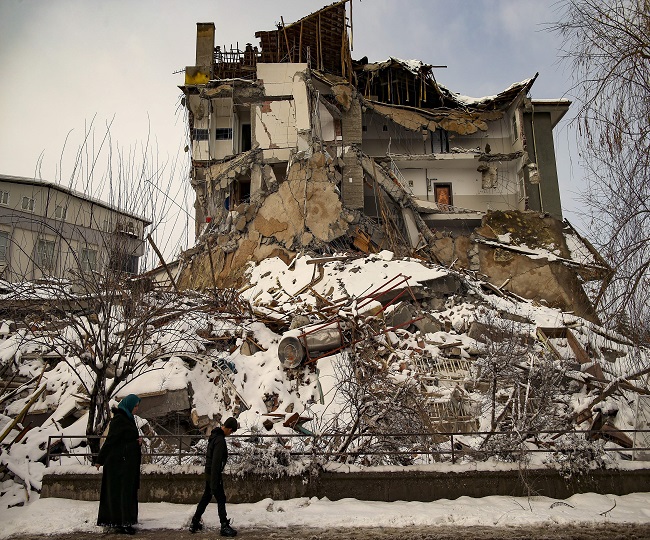 State of emergency declared in Turkey
Turkish President Recep Tayyip Erdogan said that 13 million people out of the country's 85 million were affected by the earthquake.
A state of emergency has been declared in 10 provinces of Turkey for three months.
According to Adelheid Marschang, a senior emergency official at the World Health Organisation, the number could be as high as 23 million people for the entire quake-hit region.
At the same time, countries around the world have announced global aid for earthquake-hit Turkey and Syria.
Teams from around 30 countries around the world have left for Turkey or Syria.
For More update visit Hindumetro