Manish Kashyap, accused of circulating a false and misleading video of the attack on Bihari workers in Tamil Nadu, surrendered on Saturday. The police team reached YouTuber Manish Kashyap's house on Saturday morning to attach it, after which the accused surrendered.
Dozens of police officials reached Manish Kashyap's Majhaulia police station area at Mahanava village at around 5 am on Saturday morning and started the process of attachment. In the presence of Champaran Range DIG Jayant Kant, SP Upendra Nath Verma, the police seized every item of Manish Kashyap's house.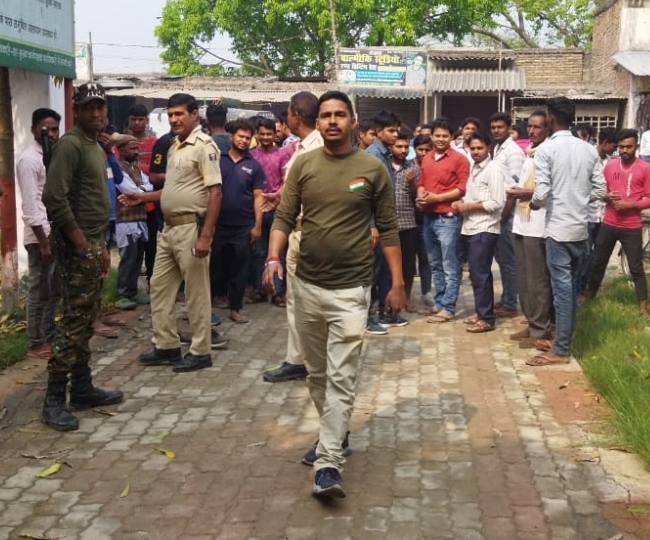 The police also uprooted the doors and windows of the house. During this time there was a huge crowd of people. The goods have been brought to Majhaulia police station by loading them on a tractor. Here, Manish Kashyap has surrendered in Jagdishpur OP after getting information about attachment.
(Crowd outside Jagdishpur police station)
A case has been registered against him in Patna for making fake videos of attack on Bihari laborers in Tamil Nadu viral. While cases are already registered against him in Bettiah as well.
The police had filed an application in the court for attachment-confiscation of Manish Kashyap's house. After getting the approval, the police reached his house on Saturday to take attachment action.yapPlease inform that the police was probing the alleged violence with Bihari workers. To mislead the police, a fake video was shot in a rented house in Bengali Colony under Jakkanpur police station in Patna.
Two have already been arrested in this case. At the same time, while taking action, the EOU had frozen the bank accounts of Manish Kashyap and his YouTube channel. A total of Rs 42 lakh 11 thousand 937 was deposited in four different bank accounts.
For more update visit Hindumetro