Chaitra Navratri is that auspicious time of the year when devotees of Goddess Durga and Lord Rama observe fasts and pray to the gods for nine days to bless them with prosperity and happiness. It is also the time to rejoice as Chaitra Navratri is one of the most awaited Hindu festivals. During the nine-day celebrations, people pray to the nine avatars of Goddess Shakti, and on the last day, observe Ram Navami – celebrating Lord Rama's birth. Chaitra Navratri starts on the first day of the Hindu Luni-Solar calendar and falls in March or April. Most rituals followed during Shardiya Navratri, which falls in September or October, are also followed during Chaitra Navratri.
Chaitra Navratri 2023 Date:
The Chaitra Navratri will be observed from March 22, 2023, to March 31, 2023. The Ashtami of the Chaitra Navratri, which is considered to be the most important day of ritual, falls on the 9th day of the Navratri which is on March 30.
Day 1 – Maa Shailputri Puja (Pratipada)
Day 2 – Maa Brahmacharini Puja (Dwitiya)
Day 3 – Maa Chandraghanta Puja (Tritiya)
Day 4 – Maa Kushmanda Puja (Chaturthi)
Day 5 – Skandamata Puja (Panchami)
Day 6 – Maa Katyayani Puja (Shasthi)
Day 7 – Maa Kalaratri Puja (Saptami)
Day 8 – Maa Mahagauri Puja (Annapurna Ashtami, Sandhi Puja)
Day 9 – Ram Navami, Goddess Siddhidhatri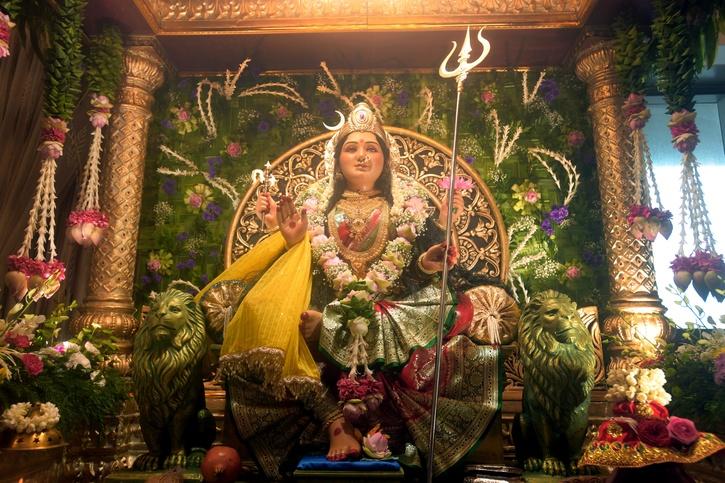 Chaitra Navratri Significance
The Hindu Lunar New Year, also known as Ugadi, is celebrated with a lot of pleasure in Andhra Pradesh, Karnataka, and Telangana. Kolamulus or Rangolis are bright patterns and designs drawn on the floor to commemorate the day. Mango leaves are frequently used to adorn doors and are known as torana. People give gifts, and some people believe it to be a good day for charity.
Everyone takes a special bath and then has an oil therapy. On this unique occasion, a special meal called pachadi is not only cooked but also shared amongst families. This is undoubtedly the day of tastes, as sweet, sour, salty, bitter, and spicy foods combine to create a magnificent feast.
This is a day when tremendous charity is observed at Hindu temples, as well as a new year's celebration. It is known by many names throughout India, including Gudi Padwa in Maharashtra and Yugadi. For Hindus, this day is defined by prayers, rituals, and honoring and cleansing one's own body. On the holiday, cleanliness is paid particular attention, and houses are carefully cleaned. A well-known tradition also involves creating a flowery pattern on cow poo at the home's entryway.
Chaitra Navratri 2023 Celebrations:
During the nine-day Navratri celebrations, devotees of Maa Durga and Lord Ram abstain from drinking alcohol, eating non-veg and consuming onion and garlic. Many people also perform rituals and pujas as per Hindu traditions. Additionally, temples and religious places are decorated during the auspicious occasion of Chaitra Navratri for devotees to come and offer their prayers.
Chaitra Navratri 2023 Wishes
Wishing you and your family a very happy Chaitra Navratri. May the next year bring you many wonderful experiences and chances to develop and flourish.
On the auspicious day of Chaitra Navratri, I wish you many fresh chances to advance in life and a prosperous year ahead.
On the occasion of Chaitra Navratri, I wish and hope that Almighty's richest blessings be bestowed upon each and every day of the coming year. I wish you a joyous Chaitra Navratri.
May you enjoy the occasion of Chaitra Navratri with your family and friends, and may you ring in the New Year with zeal. I wish you a very happy Chaitra Navratri.
May your house, heart, and soul be filled with everlasting pleasure and delights as you celebrate Chaitra Navratri. I wish you a happy and prosperous Chaitra Navratri.