Ever since the Poonch terror attack, the Indian Army has been on the lookout for terrorists. Not only this, the NIA team has also reached the spot on Friday to investigate the incident. Indian Army and security agencies have received information about the presence of 6 to 7 active terrorists belonging to two groups near the same area in Rajouri-Poonch sector.
Search is being done through drones and helicopters
It has been learned from sources that this group was involved in the ambush on an Indian Army vehicle in Poonch sector yesterday, in which five soldiers were killed. Sources said several special forces teams along with drones and surveillance helicopters have been sent to the area to help in the search and destroy operation.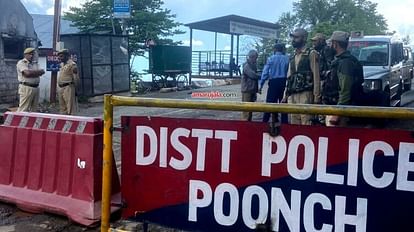 Many agencies involved in the search
Security forces including army, police and intelligence agencies are coordinating the operation in the search. According to sources, the terrorists are suspected to be from Lashkar-e-Taiba (LeT) and Pakistan.
Burn effigies of terrorists
Due to this terrorist attack, many politicians of many political parties paid tribute to the martyred soldiers regarding this attack. At the same time, in Jawahar Nagar of Rajouri, Jammu and Kashmir, BJP workers also protested against this terrorist attack. BJP workers raised slogans of 'Indian Army Zindabad', they also raised slogans of 'Shaheed jawan amar rahe'. At the same time, after making effigies of terrorists, they burnt them.
For more update visit

Hindumetro