An Indian Air Force MiG-21 jet crashed in Rajasthan's Hanumangarh on Monday, killing three people. Army helicopter has reached the accident site for rescue. According to Air Force sources, the aircraft had taken off from Suratgarh.
Constitution of Court of Inquiry
In its statement, the Indian Air Force said, "The wreckage of the aircraft fell on a house in Bahlol Nagar of Hanumangarh district, which unfortunately resulted in the death of three people. The Indian Air Force regrets the loss of lives and extends its deepest condolences to the bereaved families. A Court of Inquiry has been constituted to ascertain the cause of the accident. The pilot was recovered about 25 km north east of the Suratgarh base.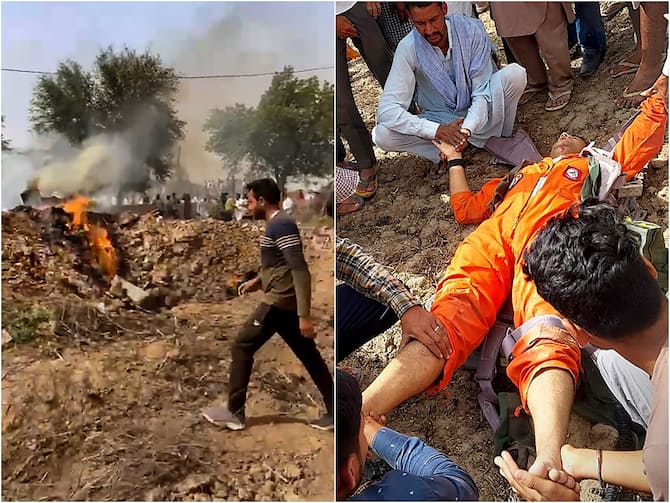 Both pilots aboard the jet are safe
District Magistrate Rukmani Riar said that both the pilots of the MiG-21 jet were safe. The jet crashed near Dabli area of ​​Hanumangarh. At the same time, Additional Superintendent of Police Jassaram Bose said that three civilian casualties have been reported.
Planes have crashed before
Earlier, on July 28, two pilots were killed when a twin-seater MiG-21 trainer aircraft crashed near Rajasthan Barmer district.
A pilot lost his life after two Indian Air Force fighter jets, a Sukhoi Su-30 and a Mirage 2000, crashed during a training exercise in Bharatpur. One aircraft met with an accident in Morena, Madhya Pradesh and the other in Bharatpur.
Last week, a helicopter crashed in Kishtwar district of Jammu and Kashmir.
Two army helicopters crashed in Arunachal Pradesh
In October last year, two incidents of army helicopter crashes were reported in Arunachal Pradesh. On October 5, 2022, a helicopter crashed near the Tawang area of ​​Arunachal Pradesh, killing an Indian Army pilot. Exactly a fortnight later, on 21 October, five security personnel were killed when an Indian Army Aviation Advanced Light Helicopter (Weapon Systems Integrated) – ALH WSI crashed near Siang village, 25 km from Tuting headquarters in Upper Siang district.
Follow Hindumetro On

Google

News