IZZHAAR, the renowned brand known for its premium luxury gifting boxes, opened their new store in Juhu. The inauguration of this exciting new venture was graced by none other than Sima Taparia, the famous matchmaker from the hit show "Indian Matchmaker."
The opening of the new store marked an important milestone for Izzhaar, a brand that has gained global recognition for its exquisite and luxurious gifting options. The store aimed to provide a unique and immersive shopping experience, where customers can explore a wide range of traditional gift options.
Izzhaar's premium boxes have become synonymous with elegant and thoughtfully curated gifting. With each box carefully designed to reflect the rich Indian culture and traditions, Izzhaar has gained a loyal customer base not just in India, but also across the globe.
The presence of Sima Taparia at the store's inauguration further highlighted the brand's increasing popularity. Known for her expertise in matchmaking and understanding the value of meaningful connections, Taparia's endorsement of Izzhaar was a testament to their commitment to quality and excellence.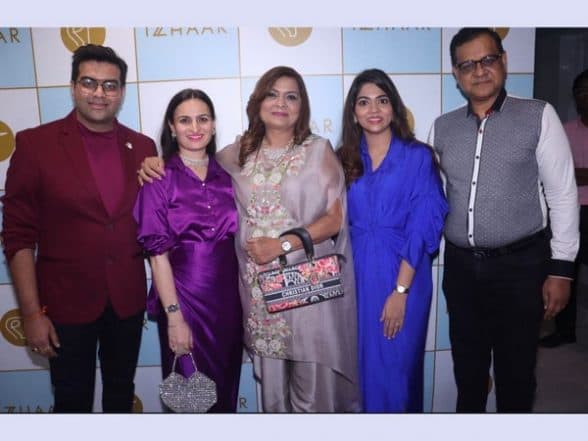 "We cordially welcomed everyone to get involved in our celebration of this momentous milestone as we remained unwavering in our mission to offer quality goods and services. The launch of Izzhaar in Juhu ushered in an exciting new phase of our effort to transform the retail industry. I wanted to express my sincere thanks to Sima Taparia for being here today. We really appreciate your support and willingness to participate in our event," said Ruchita Bansal.
The new Izzhaar store in Juhu promised to be a haven for those looking for unique and cherished gifts. With its wide range of options catering to various occasions and preferences, the brand is set to continue its journey of redefining traditional gifting and creating extraordinary experiences for its customers.
As Izzhaar expands its reach, it is evident that their dedication to preserving and promoting Indian traditions through their premium boxes has struck a chord with people from diverse cultures all around the world. The new store in Juhu was set to become a destination for locals and tourists alike, who seek to celebrate the beauty of traditional gifting in a contemporary and luxurious manner.
With Sima Taparia's stamp of approval, Izzhaar new store in Juhu was sure to be a grand success as it continues to redefine the art of gifting through its premium and exquisitely crafted traditional gift boxes.